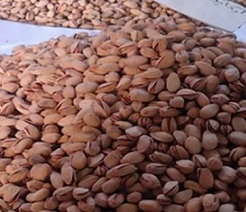 This article pistachio suppliers UK examines how pistachio suppliers process and prepare pistachio products for export to England?
In order to be able to provide a suitable pistachio cargo for a specific destination, we need to carefully review the rules of this country for importing pistachios. For example, the UK is one of the countries that has special rules for importing pistachios. The country's rules for importing pistachios are much stricter than the rules that the FAO has put in place. These rules are mostly related to the levels of pistachio aflatoxin. Aflatoxin is a toxic substance which Aspergillus fungus produce its.
Aflatoxin is a toxic substance produced by Aspergillus fungus. Aspergillus fungus is also found in some foods that are pistachios. Therefore, aflatoxin produced from this fungus is very dangerous to living creatures. If the rate of entry of this fungus to the human body is more than allowed, it will be possible to develop diseases such as cancer in the human body. Of course, entering a certain range does not matter much. But it should not be too big.
Standard pistachio imports to England
Based on this issue in pistachio trade, countries have set limits to aflatoxin. We have written this article as "pistachio suppliers uk" to explain this and the differences in the laws of different countries. Of course, FAO has also introduced global rules and standards. But some countries, such as the United Kingdom, have set separate rules that are rigorous about the FAO laws. Pistachio suppliers need to know these rules. And prepare a pistachio product for the country of destination. Pistachio product preparation for countries with strict standards requires the secondary stages of separation. Of course, requires the use of appropriate packaging. The best packaging for the moment is the vacuum package.
Our way of communication: Please contact us.
Also our product list: The Catalog.
https://anatanuts.com/wp-content/uploads/2018/08/pistachio-suppliers-uk-1.jpg
212
246
leyla nematzade
http://anatanuts.com/wp-content/uploads/2017/09/Picture1-300x286.png
leyla nematzade
2018-08-20 11:06:57
2018-08-20 09:26:19
pistachio suppliers uk