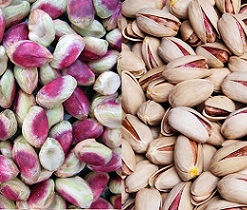 Raw shelled pistachios for sale must be in addition to the type, size and variety, we investigated, in terms of defective seeds into a pistachio are also examined.
As we have already mentioned, pistachio has two types, 5 varieties and 20 different sizes. Each kind of pistachio with a specific variety and size can itself have several qualities. What is the difference between these qualities? To understand this, we want to consider two pistachio cargo of the same type, variety and size, but of different quality.
Difference in quality in raw shelled pistachios
The most important difference between two consignments of pistachios with the same type, variety and size is the presence of defective seeds within the pistachio cargo. Have you ever been faced with a cargo that the percentage of seeds that are close? Sometimes the percentage of packed seeds within the consignment is high. In this case, we know pistachios of low quality pistachios. However, if we separate the packed seeds from the product, we can say that the quality of pistachios is higher. The percentage of close seeds is one of the issues that we consider it in pistachio processing. In pistachios of high quality, the percentage of packed seeds is close to zero. Within the standard quality pistachio, this amount is below 7%.
Of course, there are others parameters as defective also. Has it ever been possible to buy pistachio consignments such as Ahmad Aghaei, but within it is the percentage of Fandoghi. This is another parameter that we should consider in determining the quality of pistachio. For high quality pistachios, the percentage of non-uniformity of pistachios in terms of variety should be low.
All the parameters that we consider in determining the quality of pistachios, present in the product section of the table.
Our way of communication: Please contact us.
Also our product list: The Catalog.
https://anatanuts.com/wp-content/uploads/2018/08/raw-shelled-pistachios-for-sale.jpg
210
247
leyla nematzade
http://anatanuts.com/wp-content/uploads/2017/09/Picture1-300x286.png
leyla nematzade
2018-08-08 07:00:37
2018-08-08 06:32:49
raw shelled pistachios for sale