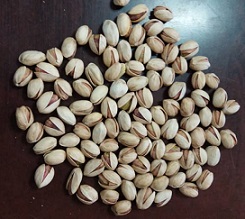 There are many things that you should pay attention to in buy shelled pistachios in bulk so you can buy a successful one.
In the "buy shelled pistachios online " article, we considered two things, pistachio type and pistachio size. Another issue that should be addressed in buy shelled pistachios in bulk is the issue of pistachio variety. Since pistachio varieties are different in terms of their appearance and, of course, the taste, it is also necessary to pay attention to the purchase of pistachios. We will discuss this in the following text.
Pistachios variety in buy shelled pistachios in bulk
Pistachio is another issue that buyers should pay attention to in choosing pistachios. The most important difference between pistachios with different cultivars is their appearance. For example, pistachios Ahmad Aghaei and Akbari are both long pistachios. But Pistachio Ahmad Aghaei has a white shell. While Akbari pistachio is darker. This is an issue affecting buyers' choices. And of course Ahmad Aghaei pistachios are often tiny. So if a customer wants to buy a long pistachios with large-sized, then you should choose Akbari pistachio. Like Iraq. Akbari pistachio is their first choice when buy shelled pistachios in bulk. But if the buyer wants to buy long pistachios with white shell, Pistachio Ahmad Aghaei is a better option. For example, India's customers are very concerned about the whiteness of pistachios. And so, buying pistachios from different cultivars often choose Ahmad Aghaei pistachio.
More details are discussed in the next article "raw shelled pistachios for sale". By studying the third article, you can learn all the tips you need to consider in buying shelled pistachios in bulk.
Our way of communication: Please contact us.
Also our product list: The Catalog.
https://anatanuts.com/wp-content/uploads/2018/08/buy-shelled-pistachios-in-bulk.jpg
219
245
leyla nematzade
http://anatanuts.com/wp-content/uploads/2017/09/Picture1-300x286.png
leyla nematzade
2018-08-08 06:00:26
2018-08-08 05:53:11
buy shelled pistachios in bulk