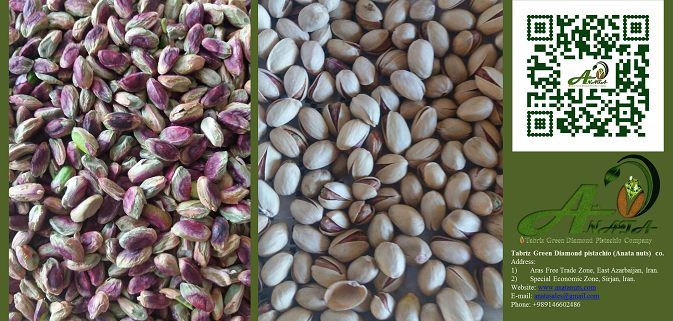 For pistachios sale in this week, the following cultivars and sizes are available:
Fandoghi pistachios in sizes 28-30, 30-32, 32-34, 34-36, 36-38.
The amount of Fandoghi pistachio is 28-30 in size. Generally, Fandoghi Pistachio harvesting year 2017-2018 has been tiny. Therefore, its coarse size (28-30 and 32-32) is low.
We give a brief explanation of this cultivar. The finest Iranian pistachio is. The world market is pistachio called Pistachio. It has the highest production and also exports.
Ahmad Aghaei pistachios in sizes 24-26, 26-28 as well as 28-30.
This pistachio is from long pistachios family. The smaller is the size of Akbari Pistachio. It has a very nice appearance for the reasons: 1) The beauty of the flower of the brain and also 2) white color of Pistachio Shells.

Many countries like this type of pistachio. In pistachios sale to some countries like India is a very good option.
Akbari pistachio in sizes 20-22, 22-24, 24-26.

This pistachio is from long pistachios family

.

This pistachio is called Super Long.

Kalleh Ghuchi pistachio in sizes 20-22, 22-24 as well as 24-26.

This pistachio is one of the large Iranian pistachio varieties.

Also

has a large brain.
pistachios sale with different qualities
The cultivars are available in three super, superior as well as standard qualities. These pistachios differ in terms of physical and chemical characteristics.
If you would like to know more about the qualitative characteristics of pistachio types, please check the quality of the product in the product section.
https://anatanuts.com/wp-content/uploads/2017/12/pistachios-on-sale-this-week.png
337
673
leyla nematzade
http://anatanuts.com/wp-content/uploads/2017/09/Picture1-300x286.png
leyla nematzade
2017-12-31 18:20:38
2017-12-31 18:27:28
pistachios on sale this week