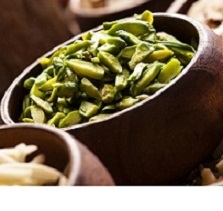 Buy slivered pistachios in bulk for use in restaurants, confectioneries and more. This product is one of the most important pistachio products. Most countries, including Vietnam, know this product well. And have been using it to decorate their food products.
In the case of different pistachio products, one of the most important products we can mention is pistachios. The most important use of the pistachio slice is to use it to decorate.
The most important points in Buy slivered pistachios in bulk
In buy slivered pistachios in bulk we recommend that you consider the following. The three parameters mentioned below are very important for pistachios. These are the parameters that determine the quality of slivered pistachio.
The first is the size of pistachio slices. Pulled and thinned slices of pistachios are very important. The pistachio stretch is thinner, the more beautiful it looks. And a more suitable option for decorating. Depending on the application of the pistachio slice, shorter pistachios may be appropriate. So you need to pay close attention to this issue.
The second one is related to the broken percentage inside the slivered pistachio. The breakdown of the slivered pistachio puts a bad look at the product that the pistachio slice will use on this product.
And the third is about the color of the pistachio slice. The most important reason for the beauty of pistachio spots is its green color. With the yellowish color of the pistachio slice, its quality and price are reduced.
With these things you can have the best choice about pistachio slices.
Our way of communication: Please contact us.
Also our product list: The Catalog.
https://anatanuts.com/wp-content/uploads/2018/08/Buy-slivered-pistachios-in-bulk.jpg
211
223
leyla nematzade
http://anatanuts.com/wp-content/uploads/2017/09/Picture1-300x286.png
leyla nematzade
2018-08-15 10:01:39
2018-08-15 07:46:54
Buy slivered pistachios in bulk