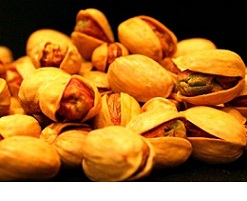 What is the difference between pepper pistachio nuts price and raw pistachio price? Which countries welcome pepper pistachio nuts to buy flavored pistachios?
Pepper pistachio nuts can be placed among the most popular types of flavored pistachios. In fact, pepper is one of the best food flavors used in flavoring pistachios and other nuts.
Pepper pistachio nuts price per ton
The difference between pepper pistachio nuts price than raw pistachio with the same quality is only the process of processing that we apply to the product. In the process of pistachio processing, in addition to consuming a different foodstuff such as pepper, we do also a secondary process, each generating side costs. Therefore, pepper pistachio nuts price is slightly higher than similar raw pistachios. Of course, this difference is not very much. Also, purchase tonnage affects the price of pistachios due to secondary processing.. Increasing the purchasing tonnage means reducing processing costs per kilogram of pistachios.
Pepper pistachio nuts
Pepper pistachio nuts is a favorite of many consumers. Of course, we know that people in different parts of the world have different tastes, but people in countries like the EU, India and … like pepper pistachio nuts. Consumers in the EU are more likely to enjoy a special type of flavored pistachios that we used in addition to pepper, salt and lemon juice in flavoring of pistachios.
You can contact us to order a variety of raw and roasted pistachios, and, of course, flavored. You can view and study different types and qualities in the catalog.
Our way of communication: Please contact us.
Also our product list: The Catalog.
https://anatanuts.com/wp-content/uploads/2018/06/pepper-pistachio-nuts-price.jpg
201
247
leyla nematzade
http://anatanuts.com/wp-content/uploads/2017/09/Picture1-300x286.png
leyla nematzade
2018-06-06 15:17:39
2018-06-06 16:35:18
pepper pistachio nuts price