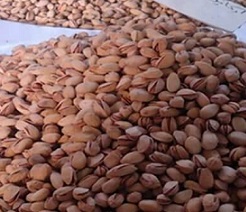 We will review the article "Iranian pistachios UK" regarding the standards of this country regarding the trade and imports of pistachios. What kind of packing is suitable for pistachios exports to the UK?
England is one of the countries that has very strict rules for pistachio trade. These rules are more about aflatoxin and pistachio peroxide.
The amount of pistachio aflatoxin in accordance with its standard should be very low. So Super Quality Pistachios are the only option to export to the UK.
We process the pistachios by separate processing, and during this stage of separation, the quality of the pew increases and reaches the surface of the pistachio super. This pistachio will be suitable for export to the UK due to its high quality.
Buy pistachio

UK
Due to the high quality and good taste of pistachio in Iran, the direct export of pistachios from Iran to the UK can be greatly enhanced. Marketing and advertising appropriate to introduce Iranian pistachios can have a positive effect on increasing cooperation.
The United Kingdom is one of the customers of all types of pistachios in shell. Of course, other products such as pistachio kernels, slivered pistachio, etc. can also be suitable for the country's consumption market. Because these products are not only suitable for use in food industry units in Iran but also in most parts of the world. Iran exports these products to many parts of the world.
In addition to choosing the good quality of pistachios in exporting to England,Another issue is also important. It is pistachio packaging. It is also necessary to choose the type of packaging we choose for the product. We should avoid the loss of quality of the cargo during the transmission process. The quality drop may be caused by heat and humidity. The best packaging for pistachios is vacuum packaging.
Our product list: The Catalog.
Also our way of communication: Please contact us.
https://anatanuts.com/wp-content/uploads/2018/04/iranian-pistachios-uk.jpg
212
246
leyla nematzade
http://anatanuts.com/wp-content/uploads/2017/09/Picture1-300x286.png
leyla nematzade
2018-04-24 10:00:04
2018-04-25 05:38:55
iranian pistachios uk