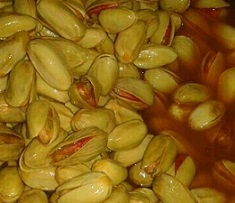 Iranian roasted pistachios, including what are? Have these pistachios been welcomed in international markets? What models of Iranian roasted pistachios are suitable for which countries?
We roast the pistachio in a variety of different types of additives. The result of this process on pistachios is a large variety of Iranian roasting pistachios that have different flavors in relation to each other. This factor has contributed greatly to product diversity.
Types of iranian roasted pistachios
The flavoring and additive ingredients we use to make pistachio roasters include materials such as saffron, aromatic vegetables, lemon juice, salt, pepper, and so on. The combination of these flavoring ingredients during roasting pistachios creates another type of flavored pistachio that can be of interest to a particular group of customers.
Iranian roasted pistachios exports
Iran's flavored pistachios have their own fans both in the domestic and export markets. Countries such as the European Union, Russia and … are customers of Iranian flavore pistachios.
Of course, the tastes of different countries are different. For example, the European Union likes a special type of flavored pistachio, which uses peppers. While Russia loves salted pistachios. Indians are also fond of buying flavore pistachios, they like the special kind that the European Union likes.
You can contact our sales experts to order and buy various raw and roasted pistachios.
Product List of Anata Nuts Co: The Catalog.
Also Our Way of Communication: Please contact us.
https://anatanuts.com/wp-content/uploads/2018/04/iranian-roasted-pistachios-1.jpg
203
235
leyla nematzade
http://anatanuts.com/wp-content/uploads/2017/09/Picture1-300x286.png
leyla nematzade
2018-04-14 05:54:00
2018-04-14 04:35:12
iranian roasted pistachios