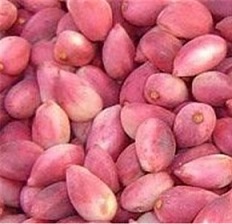 What are the quality of Iranian pistachios red? Are these low quality products, as some articles say? We have provided full details on this subject in the following text.
First, let's answer the question: What kind of pistachios are Iranian red pistachios? (The following is a description of the red pistachios that are presented by our center. We are Anata Nuts company in Iran.)
These pistachios are pistachios flavoring with red peppers. Each quality of raw pistachio can be selected to prepare red pistachios. And this is completely dependent on the buyer's choice.
Red pistachios for sale
Raw pistachios can be pistachios with a higher quality level. Pistachios with the lowest amount of Aflatoxin, the lowest amount of mouth closed and …. If the pistachio flavoring process is done correctly and in accordance with the standards and using the appropriate equipment, the product will still have the highest quality and the lowest aflatoxin. Which is suitable for export to other countries such as Singapore, UK, EU and ….
Of course, the buyer may want a cheap pistachio. Cheap pistachios with acceptable quality. In this case, the crude pistachio used to prepare Iranian pistachios red passes code standards. That is, in terms of the level of health of the product, the quality is acceptable.
You need to choose the quality of raw pistachio to achieve high quality Persian pistachios. Then ask the supplier to taste it for you.
How to accept the order of flavored pistachios from our center is the same. First, we agree on raw pistachio quality. And in the next step, we will implement the type of processing required on that pistachio. Of course, the choice of raw quality is based on the standards of the destination country and, of course, the buyer's request.
Our product list: The Catalog.
Also our way of communication: Please contact us.
https://anatanuts.com/wp-content/uploads/2018/04/iranian-pistachios-red.jpg
224
232
leyla nematzade
http://anatanuts.com/wp-content/uploads/2017/09/Picture1-300x286.png
leyla nematzade
2018-04-24 08:00:37
2018-04-25 05:38:52
iranian pistachios red