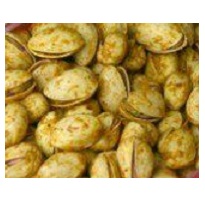 Are Iranian lemon pistachios suitable for import to your country? Are you ready to supply this flavored pistachio to your customers?
Pistachios are very delicious and tasty nuts. The benefits of this product were very high and it is very suitable for all ages. Many stores offer this product now in small packages. Students, staff and … customers are worthy of this nutrient.
Pistachios can be both raw and flavor. Perhaps the flavoring type is more popular among children and adolescents. Of course, some of the dear consumers also use raw pistachio. Raw pistachio itself is very tasty and acceptable without any kind of secondary processing. Producers of pistachios are processed and sold for different flavors. One kind of this pistachio product is lemon juice.
Iranian lemon pistachios for sale
The flavors that Iranian pistachio producers use is very diverse. And of course, each product itself has a high nutritional value, which makes it nutritionally worthwhile. Among these flavoring materials, we can mention saffron, lemon juice, and all kinds of aromatic vegetables.
Iranian Lemon Pistachio is a popular flavoring pistachio. Sometimes other flavors such as salt and … are added to it. This kind of pistachio, salt-lemon pistachio is also due to the unique flavor of some customers.
Iran's pistachio exporters ship this product in bulk and also they pack this product in small weight to global consumption markets.
This product can also be appealing to your customers. You can try.
You can send us your order through the following communication methods.
Our Product List: The Catalog.
Also Our Way of Communication: Please contact us.
https://anatanuts.com/wp-content/uploads/2018/03/iranian-lemon-pistachios-2.jpg
201
205
leyla nematzade
http://anatanuts.com/wp-content/uploads/2017/09/Picture1-300x286.png
leyla nematzade
2018-03-12 07:34:55
2018-03-12 07:34:55
iranian lemon pistachios