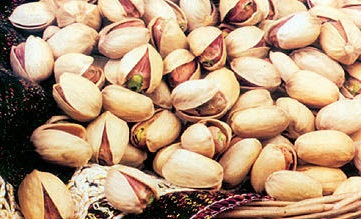 The order to buy Persian pistachios from all over the world comes to the hands of Iranian pistachio exporters. The reason for this success in exporting is the quality and Variety of Iranian pistachio. Brief information about Iran pistachio is presented below.

We can categorize pistachios in five groups in terms of cultivars of pistachios. These 5 digits have the highest production rates among other Persian pistachio cultivars. Which is why their exports have flourished and many traders know these figures. Iranian pistachio exporters introduce these five pistachio cultivars as Iranian Commercial Pistachios. The highest export purchases of pistachios are related to these figures.

Buy Persian Pistachios in Various Commercial Varieties
We first introduce these 5 digits. Pistachio Kalleh Ghuchi (Jumbo), Fandoghi Pistachio (Round), Pistachio Ahmad Aghaei (long) and Pistachio Akbari (super long) and also Badami pistachio are these figures.
Each pistachio variety has different types and qualities. We would like to mention the taste of different countries in buying pistachios. As we have said, many countries are customers of Iranian pistachio, which, of course, have different tastes in buying pistachios.
For example, the countries of China, Russia, Kazakhstan, also Pakistan and … pay much attention to the price of pistachios. Therefore, the highest amount of pistachios exported to these countries is due to Fandeghi and Ahmad Ahaghi.
Countries like Singapore have set the standard for pistachios. According to this standard, pistachio aflatoxin levels should be less than 5 ppb.
India is a pistachio-friendly country of Ahmad Ahaghi of Iran. Because this pistachio has white skin.
Our goal was to express the taste of the countries that served the Iranian pistachio client, to show that the variety of Iranian pistachios has made it possible for customers of different tastes to use it.
To buy Persian pistachios, you can download the list of products below and contact us after review. Also at each stage, if you need advice, we are ready to respond.
Our Product List: The Catalog.
Also Our Way of Communication: Please contact us.
https://anatanuts.com/wp-content/uploads/2018/03/buy-persian-pistachios.jpg
219
361
leyla nematzade
http://anatanuts.com/wp-content/uploads/2017/09/Picture1-300x286.png
leyla nematzade
2018-03-11 17:56:55
2018-03-11 10:23:39
buy persian pistachios