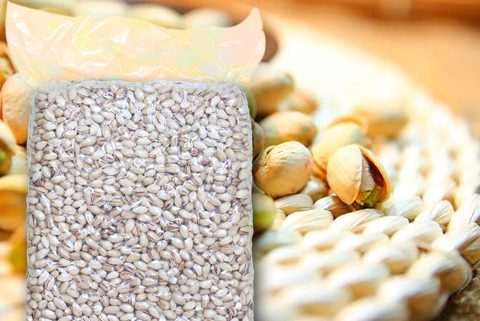 Do you want to buy bulk nuts? Do not know about big pistachios and bulk packaging? bulk pistachio nuts 20 lbs are one of a variety of large bulk packaging.
We will further introduce the big and bulky pistachios.

1) Pistachio Bag Packing:
One of the ways pistachio packaging is packed in bags. Often the weight of these packages is 25 and 50 kg.
2) Carton packaging Pistachio:
Carton packaging is often used for pistachio kernels, pistachio slices and pistachio powder. Of course, a 20 lbs (10kg) carton is also used to pack pistachios in shell. (Every 20 lbs is about 9.07 kg.)

For pistachio kernels: 10 and 12.5 kg cartons.


For pistachio slices, we have a small 5 kg carton in a bigger carton.

This big carton covers four small cartons. And its net weight is 22 kilograms of pistachio sliced.




For pistachio powder: We also put pistachio powder in a small carton, like a pistachio slice.

And then we transfer into mother's carton. The weight of small cartons for pistachio powder is 6 and 24 kg, respectively.
3) Vacuum Pistachio Packaging:
Vacuum packaging is carried out at 5, 10 and 12.5 kg volumes. After vacuuming, most of the product is placed inside the carton.
What is the best type of bulk pistachio nuts?
We introduced a variety of bulk packaging for pistachios in high weights. But what is the key to choosing packaging? What is the best type of bulk pistachio nuts?
The following four factors are important in choosing the type of packaging:

Standard buyer country

Market tastes of each region


Also weather conditions during transportation




As well as the volume of the transaction
We introduce a variety of large bulk packaging. If you are looking for another package for the product, we will agree with you during the ordering process.
https://anatanuts.com/wp-content/uploads/2018/01/bulk-pistachio-nuts-20-lbs.jpg
443
480
leyla nematzade
http://anatanuts.com/wp-content/uploads/2017/09/Picture1-300x286.png
leyla nematzade
2018-01-05 10:27:52
2018-01-05 10:29:30
bulk pistachio nuts 20 lbs