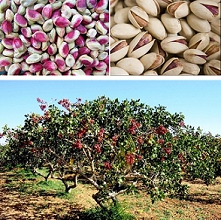 Pistachio to buy as nuts is placed in two groups of open pistachios and pistachio kernels. Closed pistachios are often used to process these two types of pistachios and their use is not commonly used for nuts.
Pistachios mainly fall into three groups: Open Pistachio, Closed Pistachios and Pistachio Kernels. Pistachio nuts sale as nuts are selected from the following groups. And Closed Pistachios are not suitable for the use of nuts.
Open Pistachio: Open Pistachio itself falls into two groups. Naturally open pistachios and mechanically opened pistachios. Each group has a different model and quality. We can say that pistachios are among the products with a very high quality variety.
Pistachio Kernels: The quality of Pistachio Kernels is very diverse. Some are suitable for nuts. And some just suitable for use in food industry units. We can choose healthy pistachios with a low percentage for nuts uses.
But there is a question. But we said these pistachios are not suitable for nuts. Also we can not use in foods. So what's the use of closed pistachios?
The closed pistachio to buy
We use the closed pistachios to process the mechanically opened pistachios as well as the pistachio kernels. The processing of pistachio brain from the open pistachios is low. It's process more than close pistachios. And if the pistachios have a good look, it will also be suitable for process of mechanically open.
Therefore, pistachio to buy can be suitable for using as nuts, use in food processing units or process of other pistachio products.
Our way of communication: Please contact us.
Also our product list: The Catalog.
https://anatanuts.com/wp-content/uploads/2018/06/pistachio-to-buy-bulk.png
220
221
leyla nematzade
http://anatanuts.com/wp-content/uploads/2017/09/Picture1-300x286.png
leyla nematzade
2018-06-17 11:39:27
2018-06-17 09:24:16
pistachio to buy bulk