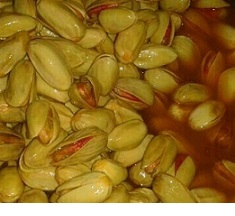 Among the flavored pistachios for sale, we can count chili pistachios as one of the most delicious types of roasted pistachios. Of course, the use of other flavors in the composition of chili pistachios, including salt and lemon, makes it more delicious.
Although pistachios are by far the most delicious agricultural produce. It is one of the best types of oily seeds and its raw kind is very tasty. But it can be flavored during the processing stage by using food flavors. We use flavors for the production of flavored pistachios for sale, we can mention the pepper, saffron, salt, vinegar, etc.
The proper use of flavors by controlling the processing process can have two advantages. The first is the improvement of the taste of pistachios. The next step is to increase the nutritional value of pistachios. As you know, pistachios are one of the most nutritious crops. Peppers, saffron, lemon or aromatic vegetables that we use as a flavoring for pistachios also have countless nutritional values. So if we can do the pistachio flavoring process well, we can say flavored pistachios with these products have a higher nutritional value than raw pistachios.
The chili roasted pistachios
Among the fflavored pistachios for sale, chilli pistachios are among the popular pistachios. Of course, the main reason for consumers' interest in chilli pistachios is its taste. We also use flavorings such as salt and lemon to make chilli pistachios. So we can create a fantastic flavor product. Chili lemon pistachios. This product has many customers in EU countries such as Germany. Of course, countries such as India are also customers of this product.
Our way of communication: Please contact us.
Also our product list: The Catalog.
https://anatanuts.com/wp-content/uploads/2018/08/flavored-pistachios-for-sale-in-bulk.jpg
216
235
leyla nematzade
http://anatanuts.com/wp-content/uploads/2017/09/Picture1-300x286.png
leyla nematzade
2018-08-04 08:05:40
2018-08-04 08:07:06
flavored pistachios for sale in bulk