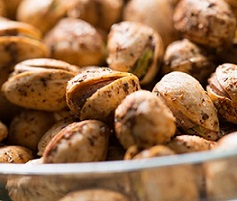 Buy flavored pistachios in a variety of salts, peppers, lemons and … are booming in the consumer market of many countries. Of course, it's worth mentioning that countries have different tastes in their choice of processing.
Perhaps you have seen a variety of pistachio models with different colors of white, red, yellow, green, and so on. Maybe you're wondering which pistachios, what kind of pistachios?
flavored pistachio nuts for sale
The types of roasting and flavoring pistachios are very tasty and are of interest to many consumers. In flavoring pistachios, we use different flavoring ingredients. Including saffron, salt, aromatic vegetables, pepper and ….
The pistachios we have flavored with red pepper are often red. Saffron pistachios are yellow. Raw pistachios have a natural color of pistachios and white. Also pistachios that are flavored with fragrant vegetables are green.
Of course, in most cases, we use combination with a variety of flavors in flavoring pistachio. For example, saffron-salt pistachios, or peppery-lemon juice and ….
Flavored pistachio nuts suppliers
Suppliers of flavored pistachio nuts are aware of the different taste of different countries in the purchase of flavored pistachios. We will give you a brief description of this.
For example, salt pistachios are flavoring pistachios that are of Russian interest. Or Iraqi country like saffron pistachio. Also European countries like pistachios that are flavored with a mixture of pepper, lemon juice and …. These examples show the difference between the tastes of different countries.
You can contact us to order flavored pistachios with the type of processing you are looking for.
Product List of Anata Nuts Company: Catalog.
Also Our Way of Communication: Please contact us.
https://anatanuts.com/wp-content/uploads/2018/04/buy-flavored-pistachios.jpg
201
237
leyla nematzade
http://anatanuts.com/wp-content/uploads/2017/09/Picture1-300x286.png
leyla nematzade
2018-04-13 21:45:52
2018-04-13 16:13:58
buy flavored pistachios nuts