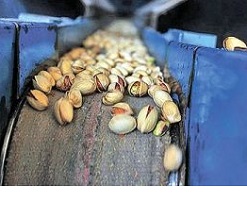 Pistachio direct purchase from the pistachio factory has many advantages. In the following text we want to list several of them.
The most important advantages we can get with the pistachio factories include:
Possibility to order in very high tonnage
Access to various pistachio quality
Buy with the best price pistachios
Three of the most important advantages of accessing the pistachio factories are listed above. We want to examine each item in a paragraph separately.
Possibility to order pistachio in very high tonnage
The pistachio factory is the main source of pistachio production and supply. Therefore, they can supply any quality pistachios in a very high volume and tonnage. If we are going to buy pistachios in high tonnage, we can buy this tonnage with direct contact with the pistachio factory or the largest pistachio exporter.
Access to various pistachios types
The pistachio factory is a pistachio processor. So pistachios of different quality are produced in this place. This means that the pistachio factories can be a source of supply for a variety of pistachio qualities.
Best pistachio prices
Accessing the best price for a specific pistachio quality is one that every pistachio trader is looking for. If we buy pistachios from a broker, we can not afford to lower the price. But the pistachio factory is in the highest position in the pyramid. Access to the pistachio factories means contact with the main pistachios supplier. The pistachios price can be much more convenient if purchased directly from the pistachio factory.
Our way of communication: Please contact us.
Also our product list: The Catalog.
https://anatanuts.com/wp-content/uploads/2018/08/the-pistachio-factory.jpg
203
247
leyla nematzade
http://anatanuts.com/wp-content/uploads/2017/09/Picture1-300x286.png
leyla nematzade
2018-08-04 05:02:00
2018-08-04 05:05:25
Buy Pistachio Direct from the pistachio factory