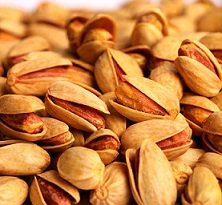 Welcome to flavored pistachios such as lemon flavored pistachio nuts, which has caused pistachio exporters to offer these types of products to merchants from different countries.
In recent years, with extensive research on the nutritional value of various types of foods and crops, grainy brain fruits such as pistachio, walnut, almonds, hazelnut, and others are high in food products of high nutritional value. As we know, these products are used as nuts.
This issue and consumer awareness of it are one of the most important reasons for increasing the daily consumption of nuts in the world. People now tend to eat high-nutritious foods, so they are eager to consume all kinds of nuts, including pistachios.
Pistachio is one of the nuts that used both raw and flavored. The flavored type of pistachios is very diverse. One of them is lemon flavored pistachio nuts.
Lemon flavored pistachio nuts sale
From different flavored pistachios, lemon flavored pistachio nuts are one of the products that have their own fans. The sour and delicious taste of this type of pistachio is one of the reasons why consumers welcome its.
Of course, we also use other flavors such as salt or pepper to process lemon flavored pistachio nuts. Combining several flavors to produce flavored pistachios, makes the flavor of the pistachios extremely unique. Which will inspire every consumer's passion for tasting it.
We encourage pistachio traders to diversify their work to develop their market. In addition to supplying raw pistachios, flavored pistachios also offer their customers.
If you intend to import pistachio from Iran, you can contact us to order a variety of raw and flavored pistachios.
Our way of communication: Please contact us.
Also our product list: The Catalog.
https://anatanuts.com/wp-content/uploads/2018/06/lemon-flavored-pistachio-nuts.jpg
205
222
leyla nematzade
http://anatanuts.com/wp-content/uploads/2017/09/Picture1-300x286.png
leyla nematzade
2018-06-02 17:53:46
2018-06-02 18:00:44
lemon flavored pistachio nuts