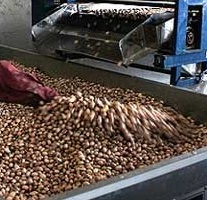 Pistachio sale bulk is made in various cartons and sacks. Package weight is often 5 to 70 kg. We introduce the packing weight for various pistachio products below.
For pistachios sale bulk, one of the most important things to note is packaging. For each pistachio product, depending on its characteristics, a specific type of packaging is used. Of course, we do not choose the type of packaging just based on the type of product. In choosing the type of packaging, in addition to the type of product, we also need to consider other issues. I mentioned this in the Qibal articles. In the future articles, we promise you to re-point them. In this paper, we are currently planning to introduce a variety of pistachio products.
Pistachios sale bulk
For pistachios in shell in pistachios sale bulk, three types of packaging are used. Packing of sack type, cardboard packing and bag packing. The weight of these packages is 50 kg, 10 kg and 5 to 30 kg respectively.
For pistachio kernels, these three types of packaging are also used. Package weight for pistachio kernels is 70 kg for sack packaging, 10 and 12.5 kg for cardboard packaging, and for bag packaging 5 to 30 kg.
For slivered pistachios we only use carton packaging. The reason for this is the sensitivity of this product to the blow and the possibility of crushing slivered pistachios. Therefore, sack and bag packaging can not be suitable for this type of product. While suitable for the two products above.
For pistachio powder, we can also use all three packaging models. Cardboard packaging as well as bag and sack.
Our product list: The Catalog.
Also Our way of communication: Please contact us.
https://anatanuts.com/wp-content/uploads/2018/08/pistachios-sale-bulk.jpg
200
207
leyla nematzade
http://anatanuts.com/wp-content/uploads/2017/09/Picture1-300x286.png
leyla nematzade
2018-08-27 08:12:51
2018-08-27 06:22:33
pistachios sale bulk and types packing