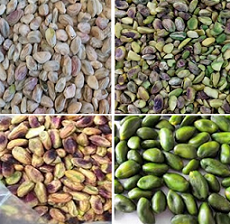 We can offer unsalted pistachio kernels in a variety of roasted and raw forms. Both models can be suitable for use inside nuts or for use in food industry units.
Pistachios and the most important of these products, the pistachio kernels , can be used in both raw and rooted models. The roasted pistachio can be of different qualities and variety. The reason for this variety is the variety of additives and flavors. One of the most important flavors used in the processing and roasting of pistachios can be salt, pepper, saffron, lemon juice, aromatic plants, etc. Each of the flavors or a combination of them can be used to flavor the pistachio kernels.
Some people think of salt as harmful to their health. For this reason, unsalted pistachio kernels prefer to salted pistachios. Considering the explanation we made about pistachio types, unsalted pistachio kernels can be raw or roasted pistachios without salt.
Order unsalted pistachio kernels
In order to order unsalted pistachio kernels, the buyer needs to accurately determine whether he means raw pistachio or the applicant the roasted pistachios without salt. If you apply for flavored pistachios without salt, you should also choose a flavoring type. For example, pistachio pepper or lemon flavor or … wants.
Of course, we would like to raise a point about salted pistachio kernels. Salted pistachio kernels with low salt content, not harmful to health. So people who like salt can use the low salt pistachios.
Our way of communication: Please contact us.
Also our product list: The Catalog.
https://anatanuts.com/wp-content/uploads/2018/08/unsalted-pistachio-kernels-bulk.png
224
230
leyla nematzade
http://anatanuts.com/wp-content/uploads/2017/09/Picture1-300x286.png
leyla nematzade
2018-08-02 06:19:59
2018-08-02 05:42:37
unsalted pistachio kernels bulk