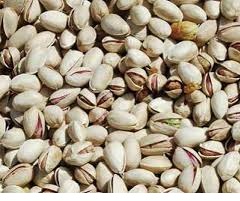 Ahmad Aghaei Pistachio is one of the most popular types of commercial pistachios that are traded on world markets. This product is from long pistachios. Which has a moderate size.
Major and commercial pistachio varieties are generally divided into two major groups and five main types. Ahmad Aghaei Pistachio is one of the most important types of pistachios found in long pistachios. We introduce the unique pistachio specifications of Ahmad Ahaghi below. This profile has become popular. And now there are many customers around the world for it.
Ahmad Aghaei pistachio price
Ahmad Aghaei Pistachio is a pistachio with a moderate and balanced price. Because it has a moderate size. For this reason, it is also suitable for import to various countries. In addition, the following characteristics have led to the popularity of Ahmad aghaei pistachio among pistachio consumers. Features include:
Ahmad aghaei pistachios is from long pistachios group. So it looks stylish and beautiful. Its skin color is also white and bright. This feature is also another attraction of customer interest. Also, the flower color of the pistachio is very beautiful and pink. The beauty of the pistachios has led to a lot of customers.
The most important customers of Ahmad aghaei pistachios are countries such as India, Turkey, Germany, Russia and …. This pistachio is also popular in Iran. Of course, Ahmad aghaei pistachios has a few sizes. The size of Ahmad aghaei pistachio starts from 24 ounces to 34 oz. The 24-26 ounce is the largest size of Ahmad Ahaghi. And the smallest 32-34 ounces. Customers choose the size and quality of this type of pistachio according to the taste of their customers.
Our way of communication: Please contact us.
Also our product list: The Catalog.
https://anatanuts.com/wp-content/uploads/2018/07/ahmad-aghaei-pistachio-sale.jpg
201
240
leyla nematzade
http://anatanuts.com/wp-content/uploads/2017/09/Picture1-300x286.png
leyla nematzade
2018-07-08 19:55:25
2018-07-08 08:49:37
ahmad aghaei pistachio sale