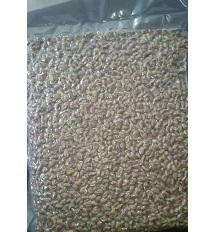 Pistachio nuts for sale are available in bulk and packaged. Small packages are available in weights under one kilogram and bulk packaging is available in the range of 5 to 70 kg.
In the preparation of pistachio nuts for sale, one of the most important issues to consider is pistachio packaging. Packaging, especially for food, is a very important process and process. Which adds value to the product due to increased food longevity and reduced waste. Therefore, pistachio exporters are very careful about packaging pistachio nuts for sale. Because, in addition to being able to rely on the buyer to maintain the product, they can sell their valuable added products more appropriately. Most buyers also always ask the seller to apply the best package for his product, in order to maintain his capital and prevent any loss of product.
Different types of pistachio nuts for sale
The most important point to consider when choosing a package is in the first step whether we intend to buy bulk pistachios or pistachios packed in small weights.
Packing pistachio nuts for sale in bulk has sacks, bags and cartons. The weight of these packages starts from 5 kg to 70 kg.
Packing pistachio nuts for sale is also available in small packages. Includes metal cans, cellophones, vacuum bags, cartons, etc. These packages often range from 45 grams to 1 kg.
You can contact us through the following links to purchase a variety of pistachio qualities in small packages or in bulk.
Our way of communication: Please contact us.
Also our product list: The Catalog.
https://anatanuts.com/wp-content/uploads/2018/08/pistachio-nuts-for-sale.jpg
232
215
leyla nematzade
http://anatanuts.com/wp-content/uploads/2017/09/Picture1-300x286.png
leyla nematzade
2018-09-02 13:23:09
2018-09-02 09:28:49
pistachio nuts for sale