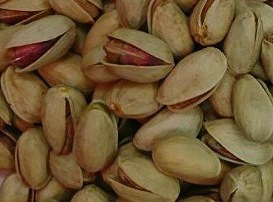 Ahmad Aghaei pistachio is one of the pistachio cultivars of Iran, which has been able to sell well in world markets. You can familiarize yourself with the characteristics of this pistachio and its size, as well as how and how to order the product below.
Iranian commercial pistachios have three groups of round pistachios, long pistachios and jumbo pistachios. Ahmad Aghaei pistachio is from a family of long pistachios.
This pistachio has a relatively modest size. Ahmad Aghaei's pistachio size is based on the number in an ounce range of 24 to 32. One of the most important characteristics of Ahmad Aghaei's pistachios, we can refer to the whiteness of its shell skin. This feature has become popular. Ahmad Aghaei's pistachios is currently exporting large quantities of Iran to other countries. Another characteristic of this variety is the beautiful color of pistachio flowers. The other issue is the proper price due to the average size of pistachios.
Ahmad Aghaei pistachio export
Iran exports pistachio from Ahmad Aghaei to many parts of the world. We can mention India from the most important countries that are customers of this kind of pistachio. India has a bigger size than pistachios. And often buy a naturally opened type.
Another country that is applying for Ahmad Aghaei pistachio is Russia. Russia often calls for the kind of mechanically opened of this pistachio. Countries like Turkey, UAE, Pakistan, the European Union and … are also customers of this Pistachio. Each of them likes the type and quality of this figure. This issue depends on the standards and taste of the destination country.
The Anata Nuts Company exports Ahmad Aghaei pistachio to several degrees of quality and in a variety of naturally opened and also mechanicalli opened.
The products List of Anata Nuts company: The Catalog.
Way communication of Anata Nuts company: Please contact us.
https://anatanuts.com/wp-content/uploads/2018/04/ahmad-aghaei-pistachio-for-sale.jpg
202
273
leyla nematzade
http://anatanuts.com/wp-content/uploads/2017/09/Picture1-300x286.png
leyla nematzade
2018-04-09 08:00:17
2018-04-13 06:26:13
ahmad aghaei pistachio for sale