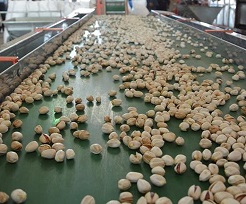 In order to have access to pistachio sellers at the higher levels of food pyramid, we need to look for pistachio sellers in pistachio producing countries.
One of the most important issues that pistachio merchants care about pistachio is, and it is important, access to a very powerful supplier who can meet the demanded product in the best conditions. The best conditions for access to the best prices for pistachios, the possibility of supplying at different times, the provision of good secondary services, such as pistachio transportation, cargo insurance, etc., are the best. To meet these requirements, we need to access the main suppliers of pistachios. So we have to look for pistachio sellers at the origin of pistachio production.
Pistachio Sellers at the origin of pistachio production
The most important pistachio production centers in the world are Iran and the United States. If we look at the statistics, we can know the biggest pistachio exporter. With our investigations, and according to the statistics of INC, the largest pistachio exporter in the world is Iran. Pistachio production figures also indicate that the country is one of the major pistachio producers. So we can say that Iran is the exporter of its own pistachios. And in fact it is the main supplier of pistachios. And we should look for pistachio sellers in this country.
Buying pistachios directly from pistachio sellers in this country has many advantages. The most notably, we mentioned above. We remind you again. Access to the best pistachio price. Supply of high-tonnage pistachios. The supply of pistachios at any time interval of the year and not having concerns about the supply of pistachios. Access to product diversity. And of course it's possible to order pistachios with a special type of processing and with a special quality.
Our way of communication: Please contact us.
Also our product list: The Catalog.
https://anatanuts.com/wp-content/uploads/2018/06/wholesale-pistachio-sellers.jpg
204
246
leyla nematzade
http://anatanuts.com/wp-content/uploads/2017/09/Picture1-300x286.png
leyla nematzade
2018-06-25 23:42:24
2018-06-25 18:23:27
wholesale pistachio sellers