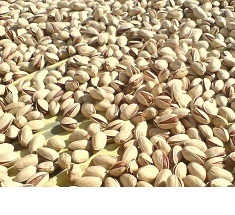 Ahmad aghaei pistachio price per pound is cheaper than Akbari and Kalhoquchi cultivars and is more expensive than hazelnut and almonds.
We can describe the most important characteristics of Ahmad Ahaghi pistachio with its appearance, color of the skin and its brain, and size of pistachios.
Ahmad Aghaei pistachio is in appearance in the long pistachio group. Its skin color is very white and bright. Its flower color is pink. And the same characteristics, the beauty of the pistachio seeds has given this figure. For this reason, there are many customers in the world. The countries of Russia, India, Germany, Pakistan, Turkey, the domestic market of Iran, UAE and … are from Ahmad aghaei pistachio customers.
Pistachio Ahmad Ahaghi, in terms of size, is in a row of medium sized pistachios. The number of Ahmad aghaei pistachio seeds per ounce is between 24 and 32. The size of each consignment of pistachio Ahmad aghaei , which we will review, will often be, 24-26, 26-28, 28-30,30-32. Given that Pistachio Ahmad Ahaghi has a moderate size, therefore, Ahmad aghaei pistachio price per pound is often more balanced than Akbari and Kalle Ghuchi cultivars.
Pistachio price per pound
One of the most important issues in pricing each pistachio cargo is its size. Pistachio Ahmad aghaei is one of the most important Iranian pistachio cultivars. Because this figure is one of the cultivars whose production is high in Iran. It has become one of the Iran commercial cultivars pistachios. And now it has exported extensively to various countries.
Of course Pistachio Ahmad Aghaei has both a natural smile and a smiley mechanic. Different countries, depending on the market potential and the level of economic power of consumers, and of course the standard of the target market, choose among the different qualities of the appropriate pistachio.
You can read the catalog to check the quality of Ahmad Aghaei pistachio.
Our product list: The Catalog.
Also our way of communication: Please contact us.
https://anatanuts.com/wp-content/uploads/2018/05/ahmad-aghaei-pistachio-price-per-pound.jpg
215
235
leyla nematzade
http://anatanuts.com/wp-content/uploads/2017/09/Picture1-300x286.png
leyla nematzade
2018-05-04 08:19:16
2018-05-04 08:21:56
ahmad aghaei pistachio price per pound