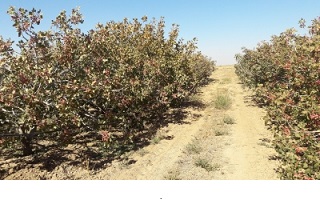 In this article, we will look at the amount of Iran pistachio production, considering inc statistics. We also introduce several countries that are the main goals of Iranian pistachio exports. (We will publish the statistics published by the Iranian Pistachio Association on the volume of annual Iran pistachio production and its adaptation with the INC statistics in future papers.)
How much pistachio was produced in the world in 2016-2017? How much was Iran's share of pistachio production this year? What is the average annual production of pistachio in Iran?
Iran pistachio production 2017
Fortunately, in the year 2017-2018, the production of pistachios in Iran was very good and reached more than 300 thousand tons. (Of course, the exact figures for the 2017-2018 production are not officially published yet.)

But the statistic of inc on pistachio production in 2016-2017 in different countries of the world is as follows:
The pistachio production in the world in 2016-2017 (based on the weight of pistachios in the skin) was about 760 thousand tons. Of this, the United States produced about 285,000 tons, and Iran's share of pistachio production was about 180,000 tons this year. With this volume of production, the United States accounted for about 53% of all pistachio production, and the country of Iran accounted for 23%.

Also the average pistachio production in Iran in 2010-2015 was about 33% of global production.
Iranian pistachio exporters
With the statistics mentioned above, we can produce Iran as one of the main hubs as well as in some years we will introduce the world's largest producer of pistachio.
Iran exports a significant amount of pistachio, considering the high volume of production and the limited domestic consumption of Iran. Countries in each of the five continents are on the list of pistachio buyers in Iran. Including:

Hong Kong

Emirates

Vietnam

Also Turkey

Russia

India

As well as EU countries such as Germany

Kazakhstan

And …

We introduce the list of pistachios and their products in the catalog. The download is possible through the following link.
Our product list: The Catalog.
Also our way of communication: Please contact us.
https://anatanuts.com/wp-content/uploads/2018/05/iran-pistachio-production.jpg
207
320
leyla nematzade
http://anatanuts.com/wp-content/uploads/2017/09/Picture1-300x286.png
leyla nematzade
2018-05-03 17:42:04
2018-05-03 17:50:06
iran pistachio production