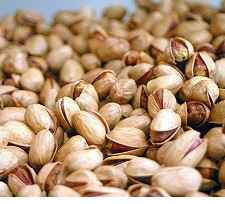 In the article "Pistachio iran export price", we discuss the difference in prices for pistachio quality.And we will fully explain this.
The annual production of pistachios in Iran is very high. The average amount is more than 230 thousand. The variety of Iranian pistachio cultivars is high. Varieties and cultivars are cultivated in Iran. But from different cultivars, there are 5 cultivars with the highest production rates. For this reason, commercial pistachio cultivars of Iran have been known.
The only difference pistachios, not their cultivars. Based on the parameters below, we can grade a pistachio variety in different qualities. For each pistachio variety, we have 5 qualities for a naturally opened type and 3 qualities for the kind of mechanically opened. (We introduce the quality of pistachios in the catalog with their detailed specifications.)
Pistachio price per pound
The parameters we consider in determining pistachio quality are:

Pistachio type

Size of pistachios

The percentage of defective seeds inside the pistachio, which includes closed pistachios,

Mouth tilted

seeds, Stains pistachios, etc.

As well as Pistachio aflatoxin


Percentage of external material inside the product




Also non uniformity of pistachio in terms of size and variety



These are the most important items in pistachio grading.

If you read the catalog, you will see all of these items in pistachio grading. Pistachio iran export price is also determined on the basis of the same. The difference in prices for pistachios is precisely because of differences in these specifications.
Of course, another issue we can mention is related to the subsidiary service of pistachio exports. Certainly, the outsourcing services have side costs. So, if you want to know if you are looking for a pistachio price difference, consider all of these.
Our product list: The Catalog.
Also our way of communication: Please contact us.
https://anatanuts.com/wp-content/uploads/2018/05/pistachio-iran-export-price.jpg
204
225
leyla nematzade
http://anatanuts.com/wp-content/uploads/2017/09/Picture1-300x286.png
leyla nematzade
2018-05-02 20:00:21
2018-05-02 18:10:49
pistachio iran export price per ton