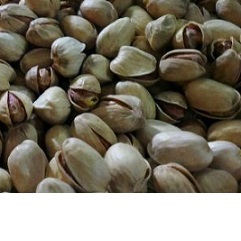 The specification and the pistachio price per kg for Jumbo pistachios are discussed in this article. This figure is one of the most important commercial pistachio cultivars in Iran. The highest amount of production and export after round pistachios.
Iranian pistachios are the following three groups:

Long Pistachios: Contains Pistachios Ahmad Aghaei, Akbari and Badami.



Round pistachios: Fandoghi pistachio.

Jumbo Pistachios: Kalleh Ghuchi Pistachio.

This article explains exclusively about jumbo pistachio.
Jumbo pistachio nuts
We can introduce the Jumbo pistachios one of the most important varieties of Iranian pistachios. Because the highest amount of production and exports is due to the pudding, according to statistics of Fandogi.

According to statistics after Fandogi pistachios, Jumbo pistachios has the highest production and exports.

Pistachio and Akbari are the most coarse types of Iranian pistachios. This figure includes sizes 18-20, 20-22, 22-24, 24-26. Although its size is equal to the pistachio of Akbari, it has a more balanced price. The reason for this is the higher performance of the Jumbo variety tree. For example, Akbari pistachio price per kg for the natural smiley type in the last three months of 2017 and the first three months of 2018 was about $ 11 to $ 12. While the Jumbo pistachio price per kg range was about $ 10 this time.

Jumbo pistachio also has a large brain. So it's a great option for pistachio kernels process. In general we can say that pistachios are very good quality pistachios and at a more balanced price than other cultivars.
Our product list: The Catalog.
Also our way of communication: Please contact us.
https://anatanuts.com/wp-content/uploads/2018/04/wholesale-pistachios-sale-bulk.jpg
241
241
leyla nematzade
http://anatanuts.com/wp-content/uploads/2017/09/Picture1-300x286.png
leyla nematzade
2018-04-27 14:41:26
2018-04-27 08:57:24
jumbo pistachio nuts price per kg