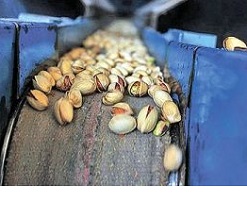 Bulk pistachio seeds for sale are offered in various shapes and in the form of various products. Open shell pistachios, pistachio kernels, pistachio products such as slivered and also ground pistachios are among the most important types of pistachios that are sold on the market.
Pistachio has a widespread use both in nuts and in food industry units. The widespread use of this product in confectionery, restaurant and … is increasing day by day. This has led manufacturers to offer this product in a variety of ways. In fact, manufacturers sell this product in the form of a variety of products.
Types of product's pistachio seeds for sale
A variety of pistachio products include:
The open shell pistachios.
The types of pistachio kernels that the food industry units are their most important customer. Of course, the kind of healthy kernels is also suitable for nuts. Which can be raw or roasted.
Products such as pistachio slices and pistachio powder, pistachio butter are suitable only for food industry units. Such as biscuits, and is also as a food in meals, such as breakfast.
Increasing the consumption of pistachios and their products in the food industry is due to the awareness and knowledge of many consumers about the high nutritional benefits of this product. As we have mentioned in the section on the use of various pistachios, pistachios have entered differently in the food chain of consumers around the world.
You can contact us via the following links to receive a list of our products.
Our product list: The Catalog.
Our way of communication: Please contact us.
https://anatanuts.com/wp-content/uploads/2018/04/bulk-pistachio-seeds-for-sale.jpg
203
247
leyla nematzade
http://anatanuts.com/wp-content/uploads/2017/09/Picture1-300x286.png
leyla nematzade
2018-04-16 22:00:55
2018-04-16 08:36:55
bulk pistachio seeds for sale