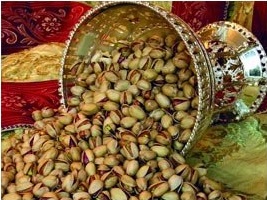 Iranian pistachio in Canada have a lot of customers. The unique taste of Iran pistachios is the most important reason why Iran's pistachio sales are welcomed not only in neighboring countries but also in many parts of the world, even far from Iran.
We can found the Persian pistachios in supermarkets and stores in many countries of the world. What is the reason for the unique welcome of different countries of the world from Iran pistachios?
The most important competitive advantage we can offer for pistachios in Iran is its extraordinary taste. This has even caused Iran pistachios to be of interest to the United States. As we know, America is one of the pistachio producers.
The most important reason we can see Iranian pistachio in the market of many countries of the world, this is its unique quality. Of course, the issue of Iran's success in producing and providing its exportable facilities is very important.
Iranian pistachio in Canada and other distant countries
We can see the list of the most important Iranian pistachio customers in addition to the neighboring countries of many other continental countries as well. Continental Europe, Africa, the Americas and Oceania are in addition to the Asian continent, Iranian pistachio customers.
Iran's pistachios in Canada have a good place among consumers. However, it is possible to increase the trade between Iran and Canada in the field of pistachios. Nevertheless, Canada is on the list of annual importers of pistachios from Iran.
Pistachios, pistachio kernels, and also pistachio products such as slice pistachio are products that Iran exports to Canada.
Product List of Anata Nuts Company: Catalog.
Also Our Way of Communication: Please contact us.
https://anatanuts.com/wp-content/uploads/2018/04/iranian-pistachio-in-canada.jpg
200
267
leyla nematzade
http://anatanuts.com/wp-content/uploads/2017/09/Picture1-300x286.png
leyla nematzade
2018-04-13 11:45:45
2018-04-13 08:25:06
iranian pistachio in canada