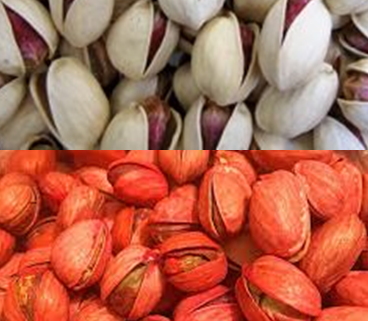 Pistachio nuts is used both in raw and roasted. Pistachio trade is also common in both cases. Of course, raw pistachio wholesale is more prevalent than roasted pistachio wholesale in the global market.

A high percentage of Iranian pistachios are exported raw. Buyers often process it according to their taste in their country. However, some countries do not have pistachio processing facilities. Therefore, they buy roughly a few percent of their needed pistachios as roasted form. 
Wholesale roasted pistachio
Iranians process pistachios in different flavors.

Roasted pistachios

Roasted salted pistachios

Lemon pistachio

Pistachio with pepper flavor

Pistachio pepper and lemon juice

Also pistachios with Vegetable taste

And …
Also, saffron pistachios is another type of Iranian roasted pistachio.
Of course, the roasting method and the process of adding materials also different. Different roasting method result in different flavors of the same additives.

In Iran, two types of roasting are common for pistachios:

European roasting


Traditional roasting
The first case is favorite by foreign countries, especially the European Union. Countries like India also love it. Russia also loves Iranian salt pistachio. And in addition to raw pistachios, purchase salt pistachio is also from Iran.
We briefly introduce the Iranian roasted pistachio also. Nevertheless, it is worth noting that the volume of raw pistachio wholesale and trading is far higher.
Dear Customers If there is a specific type of processing you need, just send us an example. We examine the materials in the lab. And then, we will process and prepare the product you need.
You can contact us to submit your request. You can also contact us through the comments section below each article.

https://anatanuts.com/wp-content/uploads/2017/12/raw-pistachio-wholesale.png
359
368
leyla nematzade
http://anatanuts.com/wp-content/uploads/2017/09/Picture1-300x286.png
leyla nematzade
2017-12-23 08:15:03
2017-12-23 08:21:23
raw pistachio wholesale