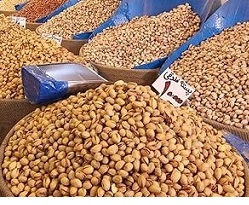 The pistachio wholesale price in Iran is based on the type and quality of pistachios and, of course, market conditions. We will discuss these two issues briefly in the following text.
The theme that pistachios are often well known in the world is the variety of pistachio products. Iran's pistachio has a high diversity. Pistachio merchants know this very well. Therefore, the issue that we encounter in some cases is the general question of buyers about pistachio wholesale price in iran. Due to the variety of pistachios, pistachio wholesale price in iran will be different for it. We can not answer a whole question about pistachios price, unless you specify the quality of our request.
By specifying your purchase details, we can inform you about:
The price of the requested product
Time of loading and delivery
And so on
Of course, alongside this, there is another issue. And that is the probability of fluctuating pistachio prices over a year.
Swing in pistachio wholesale price in iran
Regarding the change in supply and demand over the course of a year and, of course, the changes in the value of foreign currencies, unfortunately, over the years, we often see the pistachio wholesale price in Iran fluctuate. So, you need to inquire about the pistachios, the price of the day and the pistachio exporter's inventory exactly for your requested product. You can, of course, consult pistachio exporters if you need advice. However, specifying the exact quality of the request and the time of your purchase is an important issue to be definitively identified before reaching an agreement.
Our way of communication: Please contact us.
Also our product list: The Catalog.
https://anatanuts.com/wp-content/uploads/2018/08/pistachio-wholesale-price-in-iran-2.jpg
205
249
leyla nematzade
http://anatanuts.com/wp-content/uploads/2017/09/Picture1-300x286.png
leyla nematzade
2018-08-18 08:02:01
2018-08-19 08:01:40
pistachio wholesale price in iran