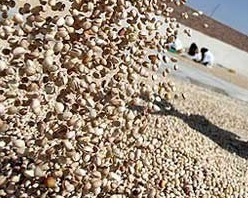 Pistachio export statistics show that Iran exports pistachios to many countries of the world. In fact, the largest pistachio exporter in the world is Iran. The United States is ranked second among pistachio exporters.
We want to review pistachio export statistics in international markets. In this article, we will also announce the 2015 pistachio export statistics and the five-year average. Both statistics indicate that Iran is the largest pistachio exporter in the world. The United States is also ranked second. In the next step, we will review the pistachio export statistics published by the Iranian Chamber of Commerce. These figures determine which countries exported pistachios to Iran.
Global Pistachio Export Statistics
The average 5-year-old pistachio export statistics from 2010 to 2015 are as follows. Iran has carried out more than 40% of total exports of pistachios in this period. And with these figures it is in first position at the list of pistachio exporters. Also in 2015, this number is about 42%. In 2015, Iran produced more than 42% of total exports. After Iran, the US is in second place. The United States has made about 34% of exports in the medium-five years. And in 2015, this share for the United States was about 26 percent.
Pistachio export statistics of Iran
These statistics indicate that Iran exports to all five continents of the world pistachio. Different countries are Persian pistachio customers. From neighboring countries and Asian countries to Canada, the Philippines, Australia and …
If you also intend to pistachio imports to your country, you can contact us for advice on choosing the best quality as well as price inquiry and inventory of the day.
Our product list: The Catalog.
Also Our way of communication: Please contact us.
https://anatanuts.com/wp-content/uploads/2018/08/pistachio-export-statistics.jpg
215
248
leyla nematzade
http://anatanuts.com/wp-content/uploads/2017/09/Picture1-300x286.png
leyla nematzade
2018-08-26 05:38:57
2018-08-26 05:38:57
Check pistachio export statistics