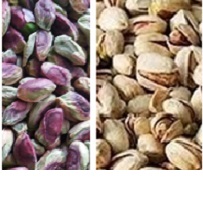 We can buy raw shelled pistachios for three different purposes. We can buy this product for sale in the form of nuts. Or buy raw shelled pistachios for preparing of pistachio kernels.
The raw shelled pistachios have two types of open shell and also close shells. Open shell is further purchased with the aim of selling raw shelled pistachios as nuts. Of course, in a few cases, it can also be used to make pistachio kernels. Also we can use the Pistachios closed shell for preparing mechanically open pistachios as well as to produce pistachio kernels.
Raw shelled pistachios
What should be considered in purchasing raw shelled pistachios of open shell type. The most important issue is the size, type and variety. Of course, other factors such as the percentage of defective seeds, such as packed seeds, are also very important within the product. We consider these items in the negotiations for the purchase of pistachios. Pistachio sales also pay attention to the price of pistachios.
We now want to talk about buy closed pistachios. The most important point in buy closed pistachios is considering the percentage of pistachio cereals. How much pistachios can we get from each kilogram of pistachio? This issue is also important in determining the price of this product. This is a very important issue in purchasing closed pistachios for the preparation of pistachio kernels and for artificially opened shells.
You can contact us to buy different quality pistachios. If you are unsure about the quality of the product, you can consult with our expert to offer the best option according to your needs.
Our way of communication: Please contact us.
Also our product list: The Catalog.
https://anatanuts.com/wp-content/uploads/2018/08/buy-raw-shelled-pistachios-2.jpg
202
203
leyla nematzade
http://anatanuts.com/wp-content/uploads/2017/09/Picture1-300x286.png
leyla nematzade
2018-08-22 20:20:23
2018-08-22 18:59:42
buy raw shelled pistachios