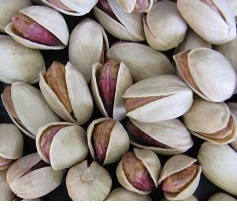 Badami pistachios are from new pistachio commercial which are produced in regions of Iran such as Khorasan province and Zarand in Kerman province.
If you are old pistachio merchants who bought pistachios from Iran, you are certainly familiar with the four commercial pistachio cultivars. These four varieties include akbari pistachios, ahmad aghaei pistachios, fandoghi pistachios and jumbo pistachios. Many pistachio traders know these four digits. But new pistachio commercial in Iran has been added to the pistachios group of long pistachios. This pistachio is badami pistachios. The cultivation area of this pistachio has increased in Iran. Due to the high production rate, we knew this figure as new pistachio commercial.
We want to introduce the Badami pistachio as new pistachio commercial in this article.
Badami pistachios as new pistachio commercial
Badami Pistachios is a group of long pistachios. It has a white skin. For this reason, the pistachios have become popular. However, it is smaller than the other two groups of long pistachios, namely akbari pistachios and ahmad aghaei pistachios. This figure is often the same size as fandoghi pistachios. So it has 28 to 36 oz.
The most important poles of this pistachio production in Iran are located in the provinces of Khorasan and Kerman. If you want to know which countries buy these pistachios, we can introduce some of them. Among other things, we can mention Russia.
If you also like to try the new pistachio commercial, you can get a sample and buy after review.
Our way of communication: Please contact us.
Also our product list: The Catalog.
https://anatanuts.com/wp-content/uploads/2018/08/new-pistachio-commercial.jpg
215
237
leyla nematzade
http://anatanuts.com/wp-content/uploads/2017/09/Picture1-300x286.png
leyla nematzade
2018-08-22 19:12:51
2018-08-22 19:12:51
new pistachio commercial