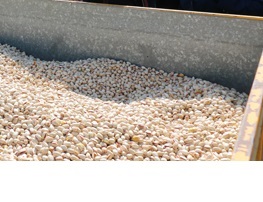 Raw organic pistachio nuts are garden pistachios that have been produced organically. All types of Fandoghi, Akbari, Ahmad Aghaei and Kalleh ghuchi have organic type.
The use of raw organic pistachio nuts has increased with the public's awareness of the health of organic products. In fact, there is a lot of research on the health of agricultural products and food. There have been many studies on the effects of the remaining chemical pesticides on agricultural products on human health. The research has led people to show more interest in consuming organic products. And so the use of raw organic pistachio nuts has also increased.
Types of raw organic pistachio nuts
Organic pistachios are two categories.
The organic garden pistachio
Also the wild organic pistachios
The second type, the wild pistachios, are not suitable for uses as nuts. But the first group, the organic garden pistachios, is the most important category of raw organic pistachio nuts.
Organic pistachio nuts, of course, are also flavored. The point about roasted organic pistachio nuts is about additives. We should use the organic products and additives in their processing. To not harm the organic aspect of it. Although Iranian pistachio exporter exports the most organic garden pistachio to raw organic pistachio nuts.
You may want to know more about the varieties, size and type of raw organic pistachio nuts. We need to mention that all four commercial pistachio varieties of Iran are organic. You can order the organic type of all four Fandoghi pistachios, Akbari pistachios, Ahmad Aghaei pistachios and Kalleh Ghuchi pistachios. Of course, organic pistachio production is limit. Therefore, it is essential to register the order before the harvest start. In fact, organic pistachio producers often presell their products.
Our way of communication: Please contact us.
Also our product list: The Catalog.
https://anatanuts.com/wp-content/uploads/2018/06/raw-organic-pistachio-nuts.jpg
202
263
leyla nematzade
http://anatanuts.com/wp-content/uploads/2017/09/Picture1-300x286.png
leyla nematzade
2018-06-20 07:54:24
2018-06-20 06:36:39
raw organic pistachio nuts