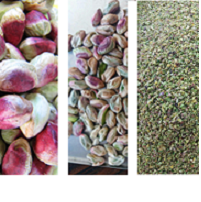 Buy raw pistachio kernels for use in nuts as well as use in a variety of food products, such as sweets, ice cream, etc., has flourished in most parts of the world.
The demand and consumption of pistachios in the world are increasing day by day. The reason for this is the development of ways to use and consume this product. By familiarizing people with this product and its unique flavor and aroma, many food units have turned to pistachios to improve the taste of their products.
Buy raw pistachio kernels for food industry units
In fact, pistachio is now one of the raw materials used by many food industry. This happened little by little. At first, people used the pistachios only as nuts. But many products are currently being produced from this product. It is used in different shapes. Even the raw pistachio kernels, which were mostly used as nuts, are now used to decorate various types of sweets, ice cream, potions, all kinds of foods and desserts. And, in fact, the use of raw pistachio kernels has increased day by day and its variety of uses.
Various pistachio products
In this section, the article refers to various pistachio products and their applications. Learn how to use pistachios. Pistachio products and their application include:
Pistachios in shell: More use for nuts.
Pistachio kernels: In Different Types. Includes extensive use. As nuts or use in confectionery, restaurants and more ….
Pistachio powder and slivered: industry units of food use these products for decorate and improve the taste of various food products.
Butter and pistachio oil: It's both food and medicine, and cosmetics.
As you can see, the variety and breadth of pistachio nuts are increasing day by day. This has also increased sale of pistachios. Currently, pistachio imports and pistachio exports also pistachio sale are rising in the world.
Our way of communication: Please contact us.
Also our product list: The Catalog.
https://anatanuts.com/wp-content/uploads/2018/08/Buy-raw-pistachio-kernels.png
202
201
leyla nematzade
http://anatanuts.com/wp-content/uploads/2017/09/Picture1-300x286.png
leyla nematzade
2018-08-01 06:38:55
2018-08-01 06:39:55
Buy raw pistachio kernels