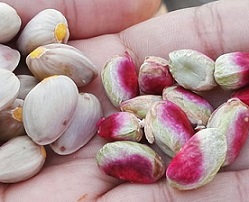 Organic raw pistachios bulk are one of the most popular types of pistachios in the European Union. We export this product to countries like Germany.
Farmers to produce organic pistachio, bear the huge cost. Because it must fight against pests without using chemical pesticides. And also strengthen the soil of pistachio garden with natural fertilizers without using chemical fertilizers. So, as we can see from this explanation, the price of organic raw pistachios is usually significantly higher than ordinary pistachios.
But because of the high nutritional value of organic pistachios and the lack of agricultural pesticides, much has been welcomed. Many countries like organic pistachios. They also cover the high cost. The European Union, Japan and … are fans of organic pistachios.
Buy organic raw pistachios bulk
In order to buy organic raw pistachios bulk, it's better to know organic pistachio types first. Organic pistachios consist of two types of pistachios.
Organic Wild Pistachios: The wild pistachio brain, the picture you see below, is often smaller than regular pistachios. This product is not commonly used in nuts and is used only in the food industry.
Organic Garden pistachios: The types of pistachios of Akbari pistachios, Ahmad Aghaei pistachios, Jumbo pistachios, as well as Fandoghi pistachios, are organic in addition to the typical. These pistachios are also suitable as nuts uses as well as their brains are suitable for uses in the food industry.
Both the pistachios, are from the export products of the Anata Nuts company. We do pistachio nuts sale in most countries of the world.You can contact us for advice or ordering.
Our way of communication: Please contact us.
Also our product list: The Catalog.
https://anatanuts.com/wp-content/uploads/2018/06/organic-raw-pistachios-bulk.jpg
202
249
leyla nematzade
http://anatanuts.com/wp-content/uploads/2017/09/Picture1-300x286.png
leyla nematzade
2018-06-05 06:17:37
2018-06-05 06:17:37
organic raw pistachios bulk