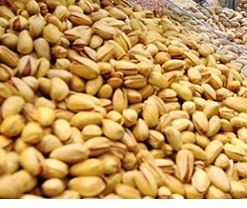 We can put roasted pistachios unsalted in shell in several groups. This grouping of pistachios is based on the type of flavor, as well as how to make flavoring pistachios.
We can categorize roasted pistachios unsalted in shell. As we argued, the most important factor we consider to be in the category of these pistachios is the flavoring type. Maybe you will not be familiar with the variety of flavors used in roasting pistachios. First, we will mention a few of these flavors. We will then introduce the types of flavored pistachios that we make using this flavor.
Roasted pistachios unsalted in shell for sale
The most important flavors other than salt used for nuts and pistachios include:
Pepper
Saffron
Vinegar
Lemon juice
Scented vegetables
And so on
The combination of these flavors in flavoring and roasting pistachios, all kinds of roasted pistachios unsalted in shell. Which of these are the following:
Lemon pepper pistachios
Also lemon vegitable pistachios
And so on
We find that roasted pistachios in unsalted in shell are very diverse. Of course, a kind of roasted pistachios in an unsalted in shell is also pistachios without any flavor. We have just nailed this kind of pistachio. Without using a flavor.
Although raw pistachios have a lot of consumption on the market, flavored pistachios have their own special place in the market. You can choose a suitable pistachio for the import of pistachio according to your taste in your country.
Our way of communication: Please contact us.
Also our product list: The Catalog.
https://anatanuts.com/wp-content/uploads/2018/06/roasted-pistachios-unsalted-in-shell.jpg
208
247
leyla nematzade
http://anatanuts.com/wp-content/uploads/2017/09/Picture1-300x286.png
leyla nematzade
2018-06-19 15:42:24
2018-06-19 17:23:12
roasted pistachios unsalted in shell