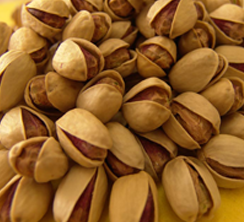 We can make roasted unsalted pistachios in flavors such as pepper pistachios, lemon pistachios, saffron, vegetable flavor and so on.
Salt is used in a lot of flavoring and processing of food. We often use salt to flavor nuts, including pistachios. Now we can use salt with other flavors like pepper, saffron, etc., or just take salt as a flavor.
Roasted unsalted pistachios for sale
However, some believe salt is harmful to the body. And so do not like to use salt nuts. Of roasted pistachios, we choose the type of roasted unsalted pistachios. In this type of pistachio we also use the flavor. But salt is no longer in their composition. For example, we use saffron, pepper, lemon juice and … to taste pistachios. for example:
Safron pistachios
Lemon Pistachios
Pepper Pistachios
And a combination of them, such as Lemon Chili Pistachios
And so on.
There is, of course, another type of roasted pistachio, which only undergoes a roasting operation. Without using any kind of flavor. These pistachios are also in the group of roasted unsalted pistachios.
You need to know what type of pistachio your country like. Based on the tastes of the target market, choose the suitable pistachio to buy.
You can also choose a specific model of roasted pistachios. To do this, after selecting the quality of raw pistachio, you need to declare the type of processing you want to the producer and supplier.
Our way of communication: Please contact us.
Also our product list: The Catalog.
https://anatanuts.com/wp-content/uploads/2018/02/persian-lemon-pistachios.png
222
244
leyla nematzade
http://anatanuts.com/wp-content/uploads/2017/09/Picture1-300x286.png
leyla nematzade
2018-05-28 20:30:24
2018-05-28 18:00:53
roasted unsalted pistachios