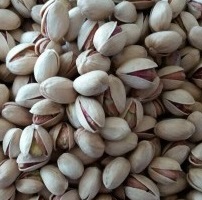 Pistachio iran export price for varieties of Ahmad aghaei, Akbari and Fandoghi and also grade 1 pistachio kernels and green pistachio kernels preference, is it?
The price of Iranian pistachio exports is different for different cultivars and qualities. The reason for this is clear. Different varieties have different characteristics. Therefore, they will have different prices.
The prices of some examples of pistachios and pistachio kernels are listed below. You can see and compare the difference in price between different numbers by comparing them.
Pistachio iran export price for various varieties
The prices we quote below are around the price of the dates specified in the last week of May 2018.
Pistachio Akbari with a size of 24-26 and 100% naturally opened at this interval is about 8.77 euros. This product has a first grade quality. The percentage of closed pistachios in the product is below 4%, which is standard.
The price of pistachio Ahmad Ahaghi with a size of 28-30 and 100% natural smile, is about 8.22 euros. The pistachios also have high quality and very low percentage of closed pistachios.
Prices of fandoghi pistachios with 32-34 ounces are about 7.53 euros. Pistachio Quality: Grade1 with a closed pistachios volume below 4%.
As you can see, there is a significant difference between the price of different cultivars. The difference in price originates precisely from the difference in size, variety, and quality of the product.
There is also a difference between the different qualities of the pistachio brain. And the reason for this is the difference in quality. For example, the first grade pistachio cereal at the same time frame is about 15.75 euros. While the grade 3 pistachio is about 10.27 euros. The tiny pistachio brain, called meat kernels, is inside the third-grade pistachio. Also, the percentage of brain broken in this product is more than first-class quality.
Which type of pistachios you choose depends entirely on the country you want to enter the product. The taste of the destination country is the most important issue in choosing pistachios and shopping.
Our way of communication: Please contact us.
Also our product list: The Catalog.
https://anatanuts.com/wp-content/uploads/2018/05/wholesale-pistachio-iran-export-price.jpg
200
202
leyla nematzade
http://anatanuts.com/wp-content/uploads/2017/09/Picture1-300x286.png
leyla nematzade
2018-05-29 05:45:29
2018-05-29 05:46:17
wholesale pistachio iran export price