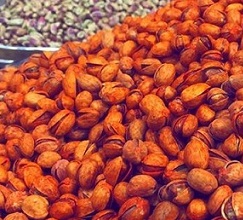 Buy red pistachio nuts, which are popular in the market for flavored pistachios, have flourished in the markets of different countries.
The interest of consumers of pistachios or any other food is unavoidable to the variety of the product. You need to pay attention to the diversity of the product and the presentation of a new product, in order to be able to keep your old customers. Also, product diversity can have a positive impact on customer growth. Because, for example, offering pistachios with a variety of quality and taste, you can attract customers with different tastes.
Many pistachio consumers like to taste flavored pistachios in addition to raw pistachios. For this reason, the sale of flavored pistachios, including buy red pistachio nuts, has flourished.
Red pistachio nuts
Red pistachio nuts are a variety of flavored pistachios with red pepper. Spicy pepper flavor and its combination with fresh and fresh pistachios have enjoyed this product. We can say that most of the ages are consumers of pistachios. But we guess that flavored pistachios have more fans among younger and younger adolescents.
Of course, we need to point out again that different countries have different tastes. Pepper pistachio nuts are popular among EU countries as well as countries like India. Of course, the Iranian market also likes these pistachios. And the demand for flavored quality pistachios in Iran is also increasing.
To buy red pistachio nuts you can contact us.
Our way of communication: Please contact us.
Also our product list: The Catalog.
https://anatanuts.com/wp-content/uploads/2018/05/buy-red-pistachio-nuts-in-bulk.jpg
220
243
leyla nematzade
http://anatanuts.com/wp-content/uploads/2017/09/Picture1-300x286.png
leyla nematzade
2018-05-29 07:45:33
2018-05-29 06:04:41
buy red pistachio nuts in bulk