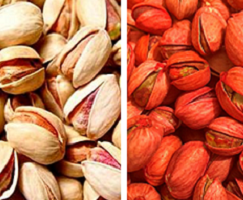 Red chili flavored pistachios for sale are offered by this center in various countries such as the European Union as well as India.
Among the various models of flavored pistachios, chili flavored pistachios for sale in the EU market, as well as countries such as India, are very popular.
Pistachios are nuts products that are both raw and roasted, are a favorite of consumers. But the kind of toasting due to the addition of flavors to pistachios has a more delicious flavor. And consumers, especially young people, love flavored pistachios.
All types of flavored pistachios for sale
One of the reasons for flavored pistachios is the variety of these products. We create the variety in flavored pistachios by combining all kinds of additives and flavors. We present below the examples of the types of flavored pistachios. Note that different countries may like a particular type of flavored pistachios from among its different types. Therefore, you need to know the taste of consumers in your country and order them to import flavored pistachios to your country.
The saffron pistachios
Salted pistachios
Roasted pistachios
Saffron-salted pistachios
Lemon pistachios
The chili pistachios
Lemon-chili pistachios
And so on.
Of all types of flavored pistachios, a special type of pistachio, in which the flavors of salt, lemon and pepper have been used, are of interest to EU countries. India also loves these pistachios.
If you need a special type of flavored pistachios, you can share with us. By announcing your application sample, we can process pistachios according to your request.
Our way of communication: Please contact us.
Also Our product list: The Catalog. 
https://anatanuts.com/wp-content/uploads/2018/05/Red-chili-flavored-pistachios-for-sale-2.png
200
243
leyla nematzade
http://anatanuts.com/wp-content/uploads/2017/09/Picture1-300x286.png
leyla nematzade
2018-05-10 05:25:57
2018-05-10 06:44:51
Red chili flavored pistachios for sale