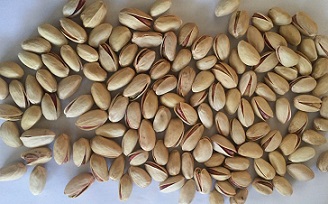 One of the main reasons for the difference in the price of pistachio in India per kg is the difference in the quality. This article provides a brief explanation of how to determine the quality of pistachios and the possibility of comparing different shipments.
One of the most important points in the difference between two pistachio cargoes is the size of the pistachio. India often likes Ahmad Ahmadi's large pistachio. Pistachio Ahmad Aghaei Oz 24-26 and 26-28. The highest demand for Pistachio in 2017-2018 is Ahmad Aghaei with 26-28 oz. Due to the shortage of Ahmad Aghaei 24-26 pistachios.

Difference in the price of pistachio in India per kg
Perhaps inquiries about the price of Ahmad Ahagh pistachio with a specific size, for example, 26-28, get different prices from suppliers. Notice that that in addition to the size of pistachios, its other characteristics also affect the quality and price of pistachios.

The following are the most important parameters that affect the price per kg of pistachios.
The percentage of defective seeds inside pistachios such as closed pistachios is very important in determining its sales price. Standard quality pistachios often have a low percentage of closed pistachios and less than 7%.
Another item is the non-uniformity of pistachio cargo in terms of size and variety. Some pistachio shipments are a mix of several varieties. If the non-uniformity of the pistachio cargo is high, the price of it will be tangibly decreasing. Regarding the size of the pistachio, the pistachio price is also reduced if the pistachios are fine and coarse.
Our product list: The Catalog.
Also our way of communication: Please contact us.
https://anatanuts.com/wp-content/uploads/2018/05/price-of-pistachio-in-india-per-kg.jpg
204
328
leyla nematzade
http://anatanuts.com/wp-content/uploads/2017/09/Picture1-300x286.png
leyla nematzade
2018-05-05 08:17:58
2018-05-05 08:27:28
price of pistachio in india per kg