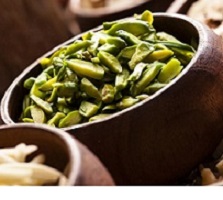 Buy slivered pistachios from iran because of the high quality of Iranian pistachios in terms of their green color and good taste, they are welcomed by many consumers around the world.
Iran Produce the various types of pistachio products in large volume. And Iran exports a significant amount of them to other countries. Here are some of the most important pistachio products that Iran produces:

Pistachio kernels

Sliced pistachios

Ground pistachios


Pistachio butter
As you can see, Iran's pistachio slice is in the pistachio export product line. In Iran, two main areas are pistachio, Qazvin and Kerman. The pistachio slice of Qazvin has countless fans due to its green color. Because this product is produced from Pistachio Qazvini pistachios, so called Qazvini slivered pistachios.
The costumers generally use the pistachio slice decorate food products. For example, confectioners use it to decorate a variety of sweets. Or chefs used to decorate a variety of foods. So the two main consumers of this product are confectionery and restaurants.
Buy slivered pistachios from iran with carton packing
We use the cartons for Packaging of slivered pistachios in Iran. Thick laminated cartons well protect the product of the strike. Therefore, the probability of a fracture of slivered pistachio decreases significantly during transportation and delivery to destination.

Fortunately, Iran produce the slivered pistachios in accordance with the required standards. So it is possible to export it to different countries of the world. If we want to send pistachio slices to countries outside of Iran, then better than vacuum packing. This package can protect the quality of the product from reaching its destination.
Our product list: The Catalog.
Also our way of communication: Please contact us.
https://anatanuts.com/wp-content/uploads/2018/05/Buy-slivered-pistachios-from-iran-country.jpg
200
223
leyla nematzade
http://anatanuts.com/wp-content/uploads/2017/09/Picture1-300x286.png
leyla nematzade
2018-05-05 05:05:30
2018-05-05 05:07:29
Buy slivered pistachios from iran country