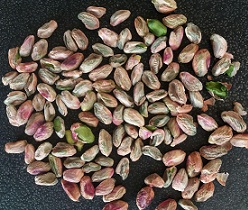 Green pistachio kernels are the best option for pistachio ice cream. The presence of green pistachio kernels in the ice cream makes it extraordinary and makes your product special for your customers.
The use of pistachios in sweets, chocolates, biscuits and ice cream is common in many countries. The two pistachio specialties have boosted its use in food industry units:
Its extraordinary flavor
Its unique green color
So Food industry units use the pistachio kernels to improve the taste of the product as well as decorate it.
Bulk buy pistachio kernels
In bulk buy pistachio kernels for use in food industry units, different quality pistachios may be selected. Sometimes the healthy type of pistachio is used to decorate the product, and sometimes the broken pistachios are used for use in cakes or ice cream.
Due to the high variety of Iranian pistachio kernels , this product is suitable for many uses. The use of pistachio powder is also common for pistachio ice cream. In this case, we will have a homogeneous ice cream with green color and pistachio flavor. A sample of the use of pistachio brains in ice cream, cakes and … below.
In the use of pistachio kernels for the food industry, pistachio freshness is also very important. Because with the aging of the pistachio brain, the taste and aroma of the pistachios have changed, and not only does not improve the taste of the product, it also reduces the quality of the product.
You can contact us to buy a variety of pistachio kernels models for use in various food products.
Our product list: The Catalog.
Our way of communication: Please contact us.
https://anatanuts.com/wp-content/uploads/2018/04/green-pistachio-kernels-for-ice-cream.jpg
210
248
leyla nematzade
http://anatanuts.com/wp-content/uploads/2017/09/Picture1-300x286.png
leyla nematzade
2018-04-17 02:00:36
2018-04-16 09:11:10
green pistachio kernels for ice cream