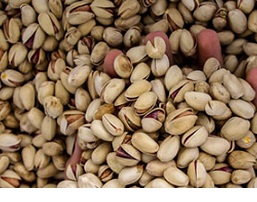 Many countries in the world are consumer the Iranian pistachios. Iran pistachio rafsanjan company are associated with many active pistachio businessmen around the world.
The pistachios are the most important strategic agricultural products in Iran, with more exports in the country. The annual production of Iranian pistachio can be estimated at more than 2,300 tons per year. Iran, with its high pistachio production, has not only supplied its market needs but also exports it to various parts of the world. Like European Union countries, Asian countries such as Hong Kong, UAE or American countries such as Canada, and so on.

Pistachio production areas in Iran/ pistachio rafsanjan company

In Iran, different regions is cultivate and produce the pistachio. One can mention Rafsanjan, Khorasan, also Yazd and others. Some areas have recently started to grow and produce pistachios, such as the East and West Azarbaijan province.
Iran Tabriz Pistachio Company
In Iran, the main production area of pistachio is Kerman and Khorasan provinces. But in the last decade, in order to maintain the production and quality of Iranian pistachio, its production transfer to other provinces of the country. Nowadays:
Azerbaijan

Kashan

Yazd

Qazvin

Also Tehran
and … are cultivating and producing pistachios in Iran.
East Azarbaijan Province (Tabriz) is a pre-emerging Iranian exporter of pistachios all over the world. So far, it has supplied the product from other parts of the country. But in the last decade, the amount of pistachio cultivation in the province has also started from Iran. This is a positive step to increase Iran's pistachio production.
 The products List of Anata Nuts company: The Catalog.
Also way communication of Anata Nuts company: Please contact us.
https://anatanuts.com/wp-content/uploads/2018/04/iran-pistachio-rafsanjan-company.jpg
202
257
leyla nematzade
http://anatanuts.com/wp-content/uploads/2017/09/Picture1-300x286.png
leyla nematzade
2018-04-12 04:45:38
2018-04-12 04:46:50
iran pistachio rafsanjan company