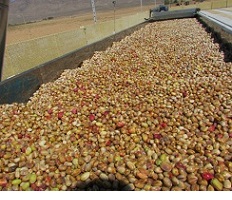 rafsanjan pistachio company has high power in supplying all types of pistachios and its products. As you know, Rafsanjan is one of the two main pistachio suppliers and exporters in the world.
To be able to access the high quality pistachio of high tonnage, the solution is to be able to reach the main source of pistachio production and also export. I think you are familiar with Rafsanjan. If you have experience in pistachio trading, you have probably heard the name of Rafsanjan. Rafsanjan is the largest pistachio in the world. It is the main center of pistachio exports. And also the most important source for supplying this product. Because the city is the place for pistachio production and processing, rafsanjan pistachio company can provide pistachios of different quality.
Rafsanjan pistachio company in Iran
According to the above, rafsanjan pistachio company is a supplier of pistachios. Of course, given that the pistachio kernels production centers are also high in this city, in addition to pistachios, other pistachios are also produced in high volume in this city. So if you are going to buy a variety of pistachio products, you can find Rafsanjan a great source of supply.
You may want to have a list of the types of products available in Rafsanjan. These products include:
Types of pistachio in shell in naturally open pistachios types as well as mechanically opened pistachios.
Pistachio kernels
Ground pistachios
Slivered pistachio
Pistachio butter
Also pistachio oil
Rafsanjan pistachio company is an excellent source of supply for any of these products of various quality. Each rafsanjan pistachio company is a major exporter of pistachios for the markets of different countries.
Our way of communication: Please contact us.
Also our product list: The Catalog.
https://anatanuts.com/wp-content/uploads/2018/08/rafsanjan-pistachio-company.jpg
200
232
leyla nematzade
http://anatanuts.com/wp-content/uploads/2017/09/Picture1-300x286.png
leyla nematzade
2018-08-23 02:21:14
2018-08-22 18:32:18
rafsanjan pistachio company