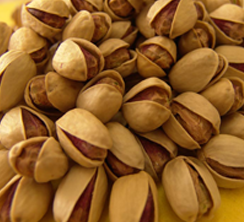 Persian Lemon Pistachios have a lot of fans in world markets. Of course, Persian pistachios are offered in different flavors. The following text describes the Iranian flavored pistachio.
Iran annually exports a significant amount of pistachio. The highest percentage is related to raw pistachios. But flavored pistachios are also on the list of Iranian export pistachios.

Some countries prefer Iranian flavored pistachios. This matter depends on the taste of the consumers of the destination country. Fortunately, the variety of Iranian flavored pistachios is also high, so copper can cover the taste of different countries.
Persian flavored pistachio
Pistachio producers in Iran, due to their taste and taste, process pistachios in different flavors. The use of flavors such as lemon, the pepper, salt, saffron, varieties of vegetables and … is common for flavoring pistachios in Iran. Many pistachio producers use several flavors simultaneously. And this will lead to better pistachio flavor.
Persian

pistachios lemon sales boom
Some traders when Iranian flavored pistachios eat, to find their favorite. And they find it suitable for sale in their country. This catering and gift giving to customers can have a great impact on the prosperity of selling Iranian flavored pistachios.

Pistachio producers in Iran are also processing and supplying the product to the buyer's order and taste.
To buy a pistachio product with the particular taste you desire, just give us an explanation of the product you want to give us when ordering pistachios.

Our Product List: Catalog
Our Way of Communication: Please contact us.

https://anatanuts.com/wp-content/uploads/2018/02/persian-lemon-pistachios.png
222
244
leyla nematzade
http://anatanuts.com/wp-content/uploads/2017/09/Picture1-300x286.png
leyla nematzade
2018-02-03 18:01:44
2018-02-04 09:47:40
persian lemon pistachios