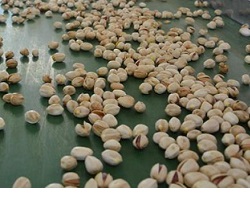 Pistachio price in Bahrain can be estimated for different varieties of pistachios in different packages. Of course, a pistachio merchant who intends to import pistachio needs to specify the type of pistachio and its type of packaging. Therefore, pistachio exporter can more accurately estimate pistachio price in Bahrain and inform the buyer.
Pistachio price in Bahrain The subject under review is a number of traders who intend to trade pistachios in Bahrain. Bahrain is one of the Arab countries close to Iran. Yearly, a significant amount of food and agriculture types, which are also pistachios, Iran export to this country. Therefore, the issue of pistachio price in Bahrain is definitely important for a business that intends to trade this product in Bahrain.
In different countries of the world, Asian countries are among the most important Iranian pistachio customers. In the continent of Asia, we can represent the Arab countries from the main buyers of pistachios. Countries like Bahrain, UAE, Qatar, Iraq and …
Estimated pistachio price in Bahrain
As we talked about the difference in the taste of different countries in buying pistachio, we should also mention here that we are fully aware of the country's taste in exporting pistachios to Bahrain. Based on this, we can guide our customers well. As well as a quality product suitable for the Bahrain market. Also, with this information, we can provide a more accurate estimate of Bahrain businessmen about pistachio prices in Bahrain.
Of course, if you do not have enough information about this subject but you intend to trade in the Bahrain market, you can talk with our company's sales experts. We try to provide the right product for your business.
Our product list: The Catalog.
Also Our way of communication: Please contact us.
https://anatanuts.com/wp-content/uploads/2018/08/pistachio-price-in-bahrain.jpg
206
250
leyla nematzade
http://anatanuts.com/wp-content/uploads/2017/09/Picture1-300x286.png
leyla nematzade
2018-08-26 14:30:50
2018-08-26 17:51:32
pistachio price in bahrain