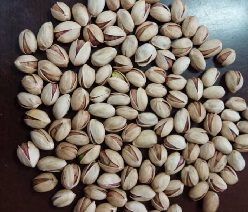 Fandoghi pistachio has the highest sales in shelled pistachios wholesale among commercial pistachio varieties. In this article we are going to introduce this figure.
The most important variety in the round pistachio group is Fandoghi pistachio. Fandoghi pistachio is a product of Iran. In Iran's people call it the Fandoghi pistachios. In the world's people calle the round pistachios. A total of 5 varieties from different pistachio cultivars are known as commercial cultivars. The following 5 digits are given below. As you can see, Fandoghi pistachio is one of them.
Akbari pistachios
Ahmad aghaei pistachios
Fandoghi pistachios
Jumbo pistachios
Also Badami pistachios
At the beginning of the article we raised in shelled pistachios wholesale, Fandoghi pistachio have the highest sales amount. What is the reason for this?
Shelled pistachios wholesale of Fandoghi pistachios
Among five commercial pistachio cultivars, the highest production in Iran is related to Fandoghi. That's why it has the highest sales. In addition to this, there are other things that have boosted sales. For example, hazelnut pistachio is a tiny pistachio. That's why the price is low. On the other hand, its level of contamination with Aflatoxin is low. Therefore, due to the same features, it can be suitable for the market of different countries. Including China as well as Russia, the European Union, Pakistan, etc. As you can see, the European countries that have strict rules for buying pistachios are the customer of this pistachio. And also countries like China who are looking for cheap pistachios.
Our way of communication: Please contact us.
Also our product list: The Catalog.
https://anatanuts.com/wp-content/uploads/2018/08/shelled-pistachios-wholesale.jpg
212
248
leyla nematzade
http://anatanuts.com/wp-content/uploads/2017/09/Picture1-300x286.png
leyla nematzade
2018-08-11 09:16:16
2018-08-11 09:22:41
shelled pistachios wholesale